This is basically a dump from an email I wrote back when someone asked me about a carousel. Specifically ones that sit in the hero slot that occupies the above the fold areas on a page. I'm not a fan. Mostly because I've looked at Analytics data a lot of times and never see good results from them. No one ever listens to me, but they always listen to things other people have said on the Internet which are similar. So, I'll leave this here in case I ever need to use it later.
Question, the client wants to know why we aren't using a carousel in the header in these wireframe? Why aren't we?
Reet, unfortunately I can't pull out any in-page Analytics to show the click through rate of links on the actual home page of the site due to *some issue* that I can't be bothered to figure out.
Luckily, someone set me up some events in Analytics so I can monitor the drop off of the click throughs on each slide, yay!
So if my email is formatting correctly for you as you read this, you can see the drop off above. These are flipping low click throughs anyways as this is based on the past month (12 Jan – 11 Feb 2016) and looking at the page views for just the /uk and /uk/home which appear to be the most popular variant landing pages for the UK only.
I'm tracking this time period as I can largely guarantee that the slides haven't been changed within this period.
They had 27,000 page views in that time period. & as I'm not even looking at other geographies in terms of my page views (event tracking DOES include other territories though) that pageview number will be a lot higher
That third slide which pushes users to the primary conversion for the site is looking pretty lame now innit?
So our recommendation remains the same, remove the carousel, if the message is that important to warrant that higher priority on the page, then it is important enough that it shouldn't be hidden to 95% of users!
Of course, and as always, my recommendation would be to validate all of this with an A/B test this against the new page design without the carousel and also the old page design as a control. Whether this is feasible in terms of the timescales of this bit of work I don't know.
For further research I've  dug out a few links with some more juicy data for the client to look at. This follows exactly the same patterns that are talked about in the following articles:
Here's a nice grab from one of those studies showing drop off of clicks on carousels which is backing us up too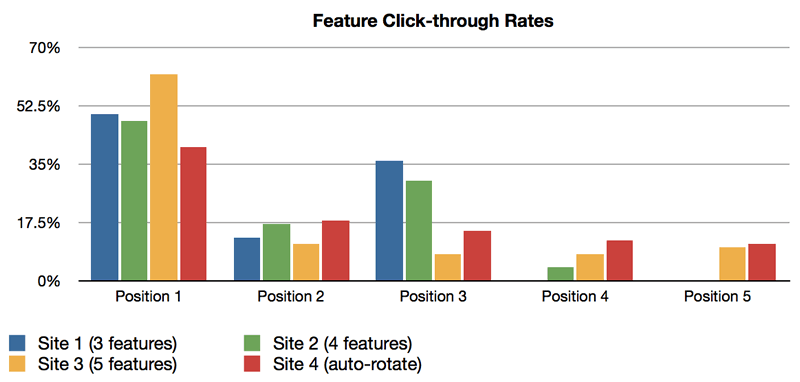 Here is an eye tracking example showing where user have focused their attention (the black box bit!)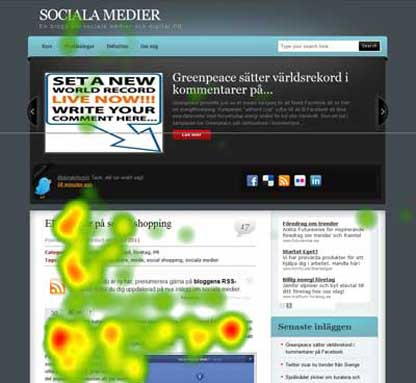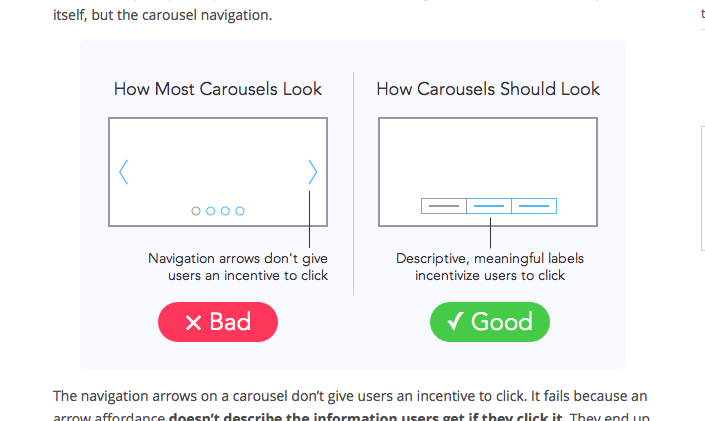 This is my favourite quote on the topic

But the final word goes to Luke Wroblewski and Jakob Neilsen who are basically like gods when it comes to usability and UX. Now go get em tiger!!